Our bedroom is a private space of our home so it is important to decorate it properly in order to turn your bedroom into a stress free atmosphere. However, most bedrooms have small or limited space especially condo units that's why decorating it is a bit of a challenge. Our client who owns a condo unit in Las Pinas City Philippines is the one featured in this blog. They chose to inside mount their faux wood blinds primarily to maximize space.
There are few cases wherein there is no option but to only inside or outside mount a blind because of some unique configuration of the window frames or due to some fixed obstructions.  Other than that the decision of whether to inside or outside mount a blind is mostly a matter of preference.  For limited space or room and if the window frame permits it's advisable to make a window blind inside mounting to maximize space.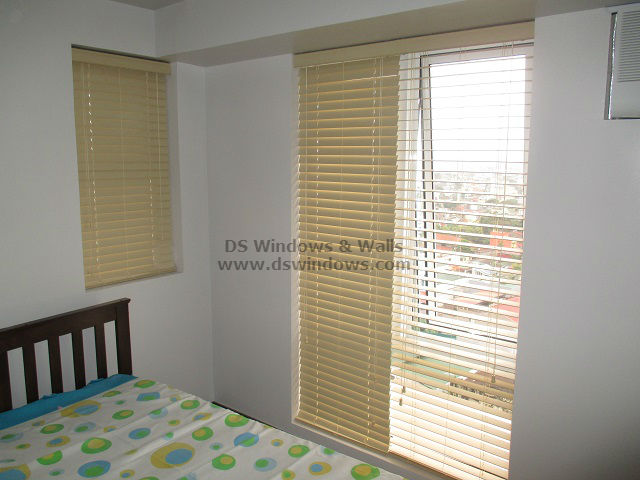 If you want an inside mounting for your blinds we need to be careful in measuring our window, you need to measure the exact width and height of the window, then we need to decrease at least 0.25 inches in width and height in order to fit inside the frame and to avoid scratching of the window frame. Our client here chose bleech color to contrast the white wall so that it will not look plain and dull.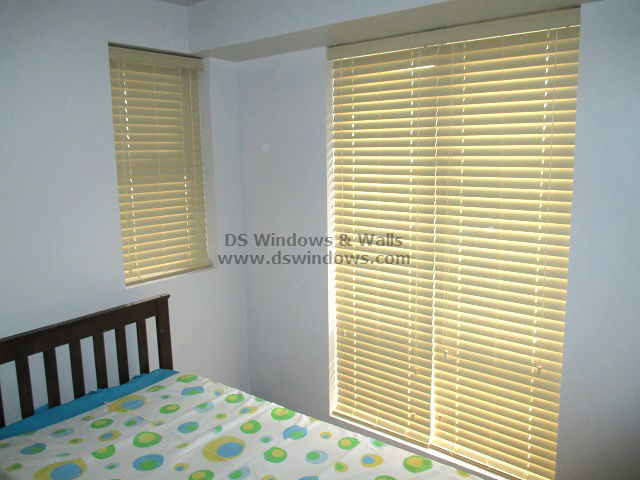 If you are having a hard time distinguishing if your blinds should be mounted inside or outside the frame or if you are not sure with your measurement, no worries because DS Windows and Walls Interior Supply could help you with that problem. We offer FREE site visit within Metro Manila. For more information about our products and services you may visit our webstore at www.angryblinds.com.ph or visit our shop located at 4th level Waltermart, Makati City, 3rd level Robinson Metro East, Pasig City and 2nd level Pacific Mall, Lucena City. You may also email us at inquiry@dswindows.com or call us at (02) 403-3262 / (02) 668-9668 / (02) 893-1373 and 0916-311-3909.
Related posts