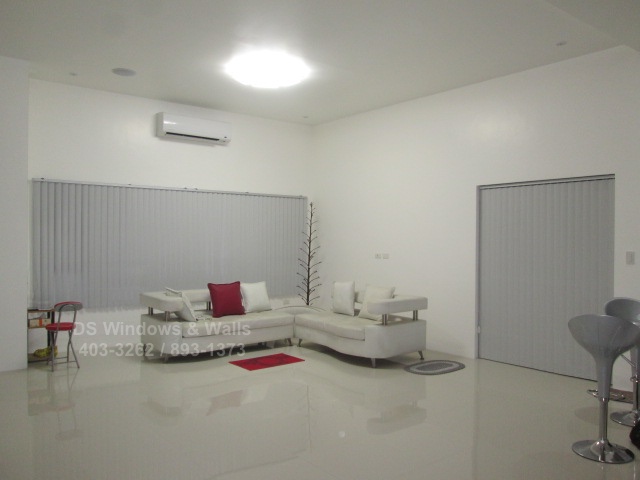 One of our project from Makati City features PVC vertical blinds that fits perfectly in their minimalistic but spacious living room and kitchen area. The house's flooring is covered with white glossy ceramic tiles and walls are painted white. The sofa set is also off-white / beige color. Some objects such as the rug and one pillow is dark red that breaks monotonous tone of the white surroundings.
When it comes to window covering each person has his/her own preference and to each his own. You cannot really pin down which type of blinds suits a particular room. Some likes sophisticated designs like curtains with intricate valences or roman shades. Others choose functionality over looks. Some even prefers looks over functionality. Regardless, if you are a person that favors simplicity and function, PVC vertical blinds is a good option.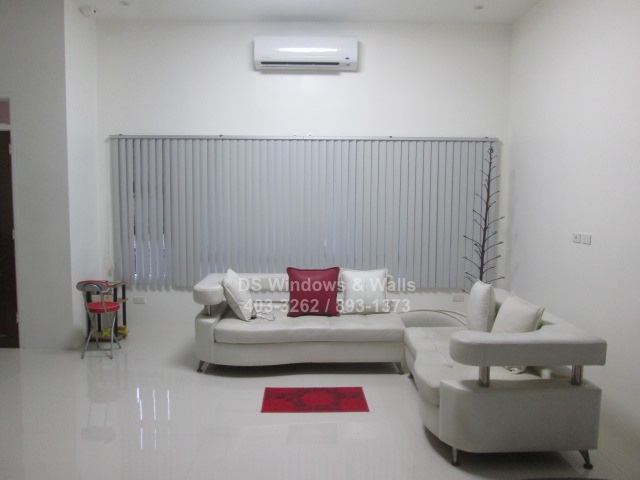 These type of vertical blinds are made up of polymerizing vinyl chloride (PVC) which is light and dependable when it comes to blocking of light and bringing privacy to your home. Unlike fabric type of blinds and shades, these blinds also gives better insulation against heat. It is also easier to clean since it is just a matter of wiping off dust and dirt to each blade with a damp piece of cloth.
Because of PVC's nature and manufacturing technique, a lot of colors are possible. You can also combine two or three colors in one window panel e.g. blue, gray, and green. Design range from simple ones like corrugated and flat, to a more intricate ones like waves, floral, and maze.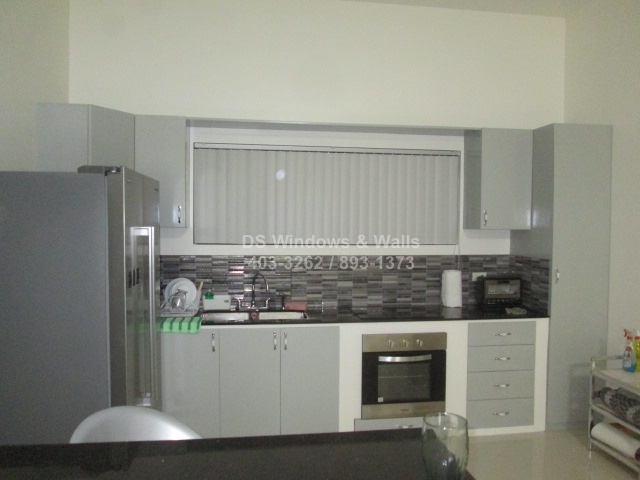 Another advantage of vertical blinds is it is easier to repair. This is because each blade can be bought separately when its end point tears and detach to its mechanism. All you need to do is measure the blade and order it as parts. Attaching it is as simple as hooking it to the hanger of the mechanism that you can already do by yourself.
For more information, call us at (02) 403-3262 / (02) 893-1373 / (02) 668-9668 / 0916-311-3909. You can also visit our mall branches or email us at inquiry@dswindows.com.
For Batangas, Laguna, Cavite area you may also contact Mr. Patrick Villapando at (Globe) 0917-583-0214 or (Sun) 0922-592-6111 or 0908-989-4676.

Related posts