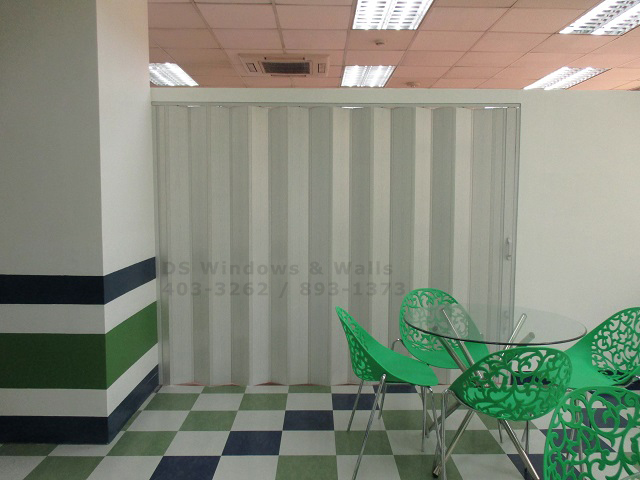 PVC accordion doors are flexible products suitable not only as home dividers but also for office pantry or canteen to separate different activities for different rooms. Accordion doors can isolate workers who are socializing/eating to those who are working or having an important meeting.
These canteens can also be used as break rooms to those who want to have a few minutes of rest or quiet time. Canteens in offices make a working environment fun and happy, as well as balance productivity and happiness of employees. It is also the perfect place to pull out those lunchboxes out of your bags, rather than eating in your own cubicles.  Hanging out in the same room also encourages social interaction (thus building positive interpersonal relationships with co-workers), stimulates creativity, and maximizes productivity after taking these short breaks. Plus, having a full stomach after a break will surely boost the productivity.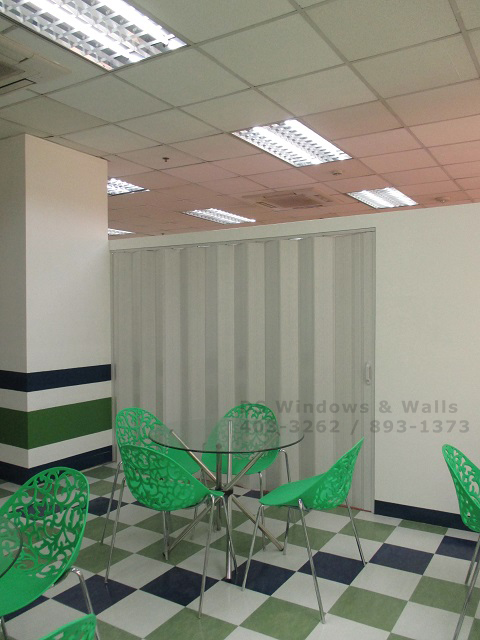 In this featured project from Makati city, the client wanted their office to have a simple, yet modern and clean looking canteen. Our client believed that by installing a PVC accordion door, employees who are working and those that are socializing or eating their meals will not be distracting each other. And for this, our client opted for a white PVC accordion door that acts as a temporary divider to separate the office grounds when it is office hours while leaving it open during lunch or break time.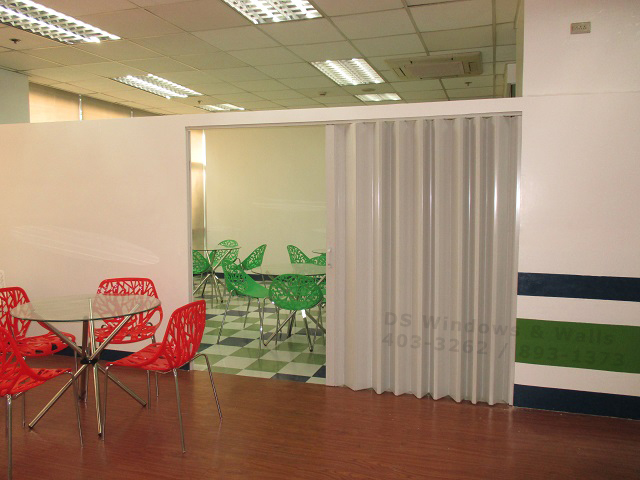 The PVC accordion door is also effective in maximizing the space in the office and enhancing its interior design, by matching its color to the office's white wall paint.
DS Windows offers a great selection of functional and striking PVC accordion doors for residential and business decorating ideas. PVC Accordion Doors can be more than just an appealing adornment, they're also opportunities to boost function and reveal the beauty of your office or store.
For more information of our PVC accordion/folding doors and to avail free estimate and quotation (if within Metro Manila) you can call us at  (02) 893-1373 / (02) 403-3262 / 668-9668 / 0916-311-3909 or visit our showroom at 2nd level Pacific Mall Lucena City, 3rd level Robinsons Metro East, Pasig City and 4th level Waltermart, Makati City.
For Batangas, Cavite and Laguna you may call (Globe) 0917-583-0214 or (Sun) 0922-592-6111 or 0908-989-4676 – look for Patrick Villapando.
Related posts