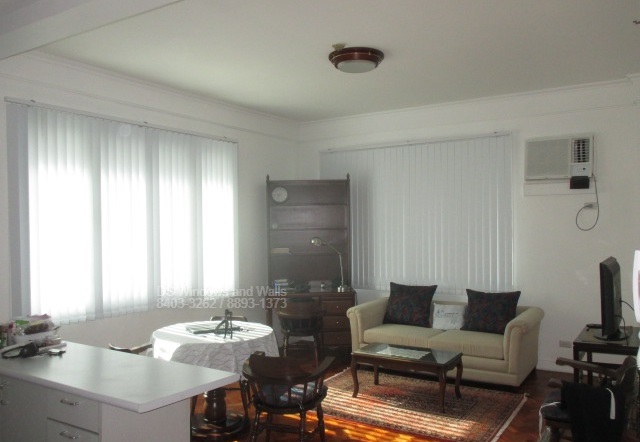 More often than not, the weather in the Philippines is hotter and warmer than its colder, windy days. Essentially, one would need to shield their homes from such heat but the convenience in blinds comes when the light and heat that enters a room can be controlled as to one's likeness. Aside from that, blinds also give a unique impression and significant overall look to an interior. The Pasig installation of fabric vertical blinds for modern bedroom and living room lives as a perfect example to the aforementioned.
Vertical blinds, hence the name, are composed of vertical panels that can cover even larger doors or windows and can be adjusted to control a room's sunlight intake. The panels can be adjusted so that they are completely open, therefore allowing more light from outside. These can also be slightly slanted so that little light from outside enters. For privacy and maximum sunlight protection, the vertical slats may be completely closed and secured.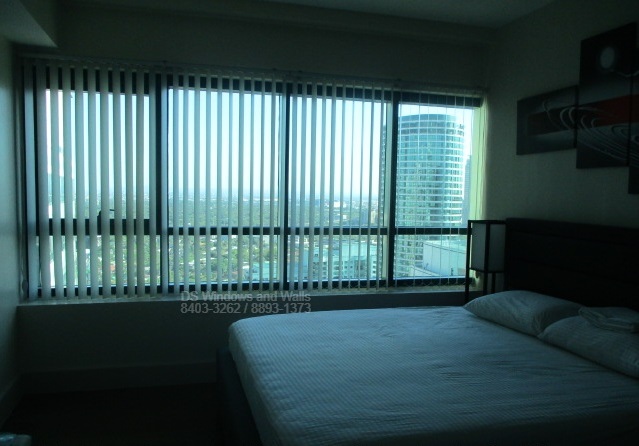 Fabric blinds, also referred to as cloth blinds, are woven fabrics shaped into vertical slats. This allows the vertical fabric blinds to provide more shade while keeping its light-controlling properties. Such also makes this type of blinds relatively easier to clean and maintain.
Noticeable in our Pasig installation is how the fabric vertical blinds highlighted the contemporaneousness of the room. If we are to look beyond its practical uses, these blinds can also be recommended for its classic, neat look that contributes to the modern home. Below is an image of how the blinds highlighted the room style of the client's bedroom.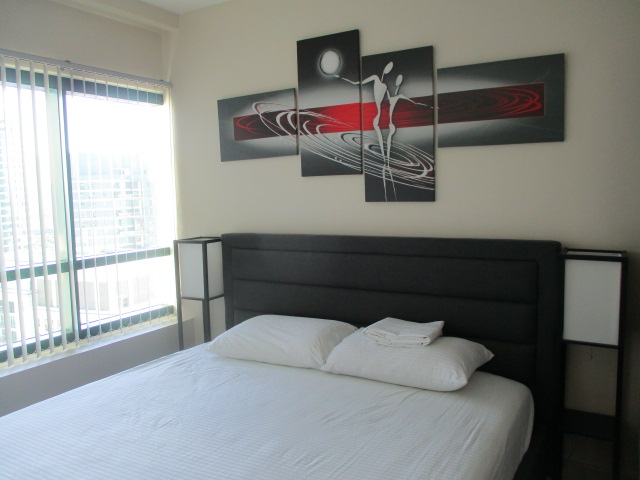 From here, it is evident that the fabric vertical blinds add up to the modern minimal look of the bedroom. Its open slats are convenient in the day and allows the bedroom spacer a great view of the city. Such an option is also beneficial when the city lights are on after the sun sets. It also comes advantageous at night as it can be adjusted to be fully closed, allowing spacers privacy and security as well. This only proves that our installation is suitable to the modern bedroom and living room of the client as it emphasizes both the practical and ornamental use of the blinds.
For more mix and match options for your home interior, these fabric vertical blinds are also available in the following colors and shades: cream, white, gray, beige, pink, blue and choco. For more of the blinds' shades and details, go to this link: https://www.carpet.com.ph/fabric-vertical-blinds/.
For more information on our fabric vertical blinds call us at (02) 8403-3262, (02) 8893-1373 or 0916-311-3909 or email us at inquiry@dswindows.com. You may visit our mall stores at Waltermart, Robinsons, or Pacific Mall.
Related posts