When it comes to designing your working place there's a lots of different factors that you need to consider. The first thing you need to consider is the kind of business you have whether you offer services, selling product, trading, retail or distribution, etc.  For one of our client in Makati City which is a Spa Salon they offer services such as health and beauty treatments and the main goal is to give relaxation thru massage and exercise equipment to their customer. That's why it's very important to provide a comfortable, soothing and welcoming atmosphere in their workplace.
The appearance of any establishment inside and outside has a high impact to a business particularly to those that are offering service such as Spa Salon where relaxation is the main motivation to their customer. In entering a spa your client must feel the comforting atmosphere of the place and feel at ease immediately. With this goal in mind you need to choose the motif of your place that can soothe different kind of people easily. With this idea our client chooses to have large windows and neutral colors that dominate the room such as the color of white and light green. With a light color for the furniture and wall paint you can help to brighten up the appearance and mood of the room while large windows can help to make a room spacious and well connected in the outside world even though your customer will be staying inside the room for long hours they will not feel lock up because of the connection they get through the windows.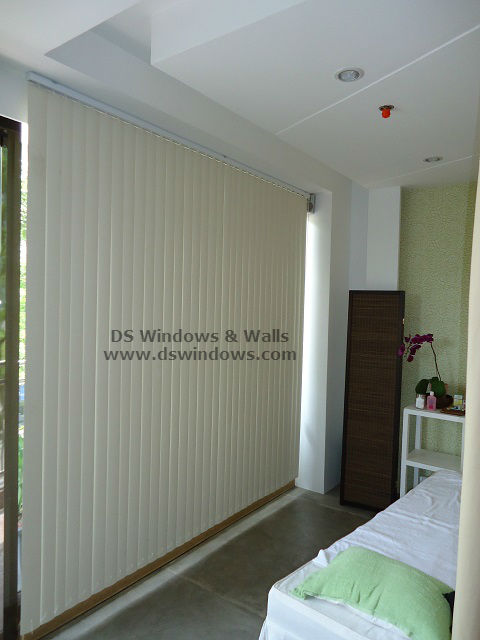 For large windows (such as this client of ours) there's this setback that more sunlight is getting through the room which is quite disturbing and uncomfortable. That's why our client opted for clean white PVC Vertical Blinds that offer a complete blackout against the sun. Vertical Blinds also give a stylish look for a window and a great way to influence in making a room look spacious because of vertical lining which make an illusion to expand the appearance of a room.
DS Windows & Walls offer lots of different blinds with various colors available. We also offer free ocular visit for actual measurement within Metro Manila. For online buyers you can also visit http://www.angryblinds.com.ph/ just makes sure that you have the right size of your window.  For more inquiries please call us at (02) 893-1373 / (02) 403-3262 / 0916-311-3909 or visit our showroom at 2nd level Pacific Mall Lucena City, 3rd level Robinsons Metro East, Pasig City and 4th level Waltermart, Makati City.
Related posts