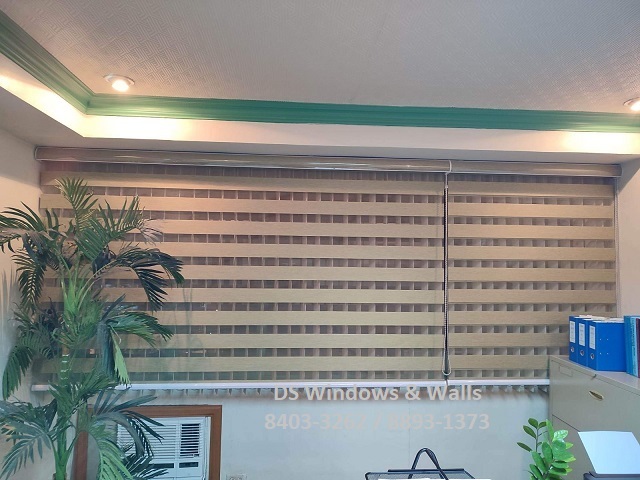 With the hustle of work and achieving company results, window and door treatments are hardly a priority. However, it is undeniable that these play a role in creating a conducive work environment. Today's article may have been something that we've seen before but let's still expand on the zebra blinds for office interior design for this specific Makati client. 
Like the zebra, the featured blinds today have a stripe-like feature because of its alternating solid and sheer fabric. These are also most commonly known as Korean or combi blinds. These are most convenient because of its light control features as well as the variety of styles it provides. These are also durable, therefore, cost-effective and are known to be energy efficient.
The alternating opaque and translucent parts of these blinds allow the full transition from sunlit rooms to blackout ones. This proves that these are flexible to use and is a good window treatment for any type of interior. This contributes to offices because privacy and security is required during meetings and other critical agendas.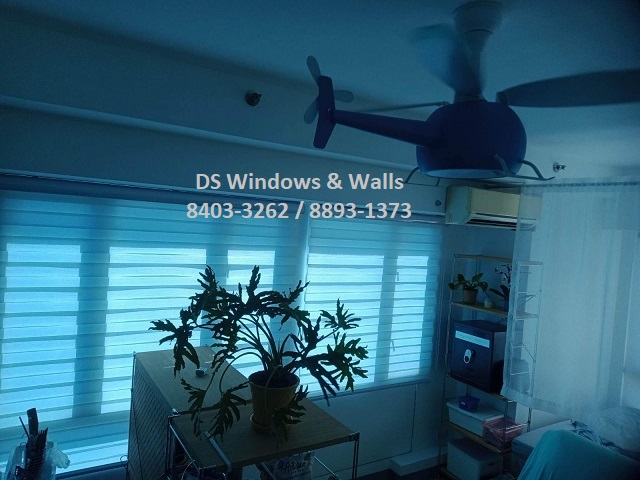 When it comes to style, zebra blinds are also a good option to consider. These come in a wide variety of sizes, colors and styles. There are a lot of options to choose from depending on a client's preferences and their interior's color schemes. For offices, colors and styles are more minimal because loud designs are not appealing to working individuals. In offices, a "less is more" approach is more appropriate because employees just need a classy and comfortable environment to work in. Louder and maximalist designs are less appealing and could even be distracting.
Going to our Makati installation, the zebra blinds did well for the office interior. First, it provided a good light control that could protect employees from eye strain and the office furniture and appliances from damage. It is also evident that the zebra blinds complement the green accent brought about by the indoor plants. From this example, it can be seen that the installation of zebra blinds are convenient both in function and as an ornament.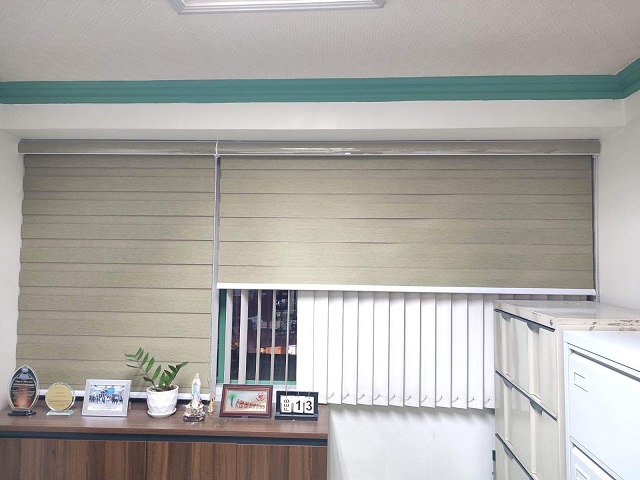 On another side of the office interior, it can be seen that the faded army green zebra blinds helped the overall look of the room. The blinds provide good color to the white walls, cabinets and wooden furniture. These are also simple but elegant enough to provide the employees a classy workplace to where they can carry out their tasks.It is also good to note that the zebra blinds can be layered with horizontal ones for maximum light protection. 
May it be for offices or homes, more of these zebra blinds (and other types of blinds on this case), may be browsed through this link: http://www.carpet.com.ph/combi-blinds.
For more information on our Zebrra blinds call us at (02) 8403-3262 or (02) 8893-1373 or 0916-311-3909. Email us at inquiry@dswindows.com or visit one of our mall showroom.
Related posts