Nowadays parents can easily find out the gender of their unborn child with the use of new technologies. And most people prefer to know it as soon as possible so they have more time to prepare when the baby is born like buying for baby clothes, decorating baby's room and more. But the thing is it also somehow reduces the excitement and amazing experience in meeting your baby for the first time especially for those first time parents like our client in Bacoor Cavite.
Most of the first time parents prepare to wait for the day of the delivery to know whether it's a son or a daughter. It's like part of the journey of the unknown and a lifetime commitment within the family. It's a fun; special and one of lifetime experience that's why, like our client, choose to embrace and welcome the unfamiliar new chapter in their lives in welcoming their child.
Not knowing the gender of your unborn child doesn't stop any parents to be eager and be thrilled to organize and plan everything for the baby. That's why our client like any other parents tends to prepare their baby's room earlier than its due time. Without knowing your baby gender really does have a setback in terms of choosing for color motif of the room that's why our client choose to use white grey for the wall color and furniture's. White and light grey are gender-neutral colors so it's safe to use this if you don't know if you're having a boy or girl.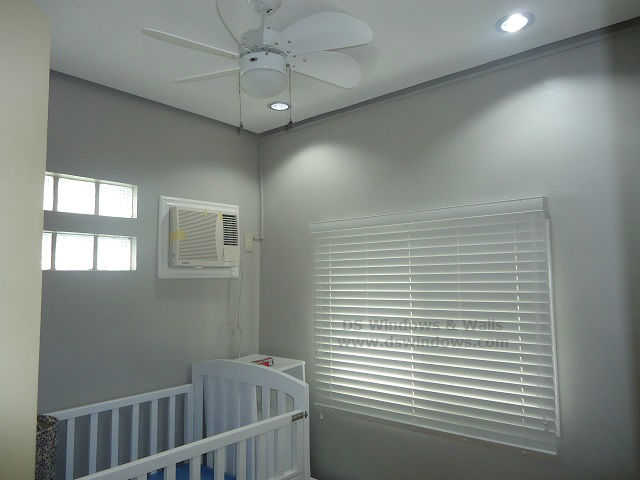 They also installed a white faux wood blinds for the window treatment. Using white color not only helps to brighten the look of the room but also give a positive aura that can calm people that is very good for the baby. Plus it's also very easy to match up with different color giving you the advantage to adjust if you decide which color your motif will go when you learn your baby's gender. Faux Wood Blinds is also one of the most durable blinds and can offer a 100 percent blackout to make your baby safe and undisturbed by the sun even in the morning since baby tends to sleep more often than staying awake.
For more inquiry please email us at inquiry@dswindows.com or call us at (02) 403-3262, (02) 668-9668, (02)893-1373 and 0916-311-3909. You can also visit our shop located at 4th level Waltermart Makati, 3rd level Robinson Metro East Pasig City and 2nd level Pacific Mall Lucena City.
Related posts