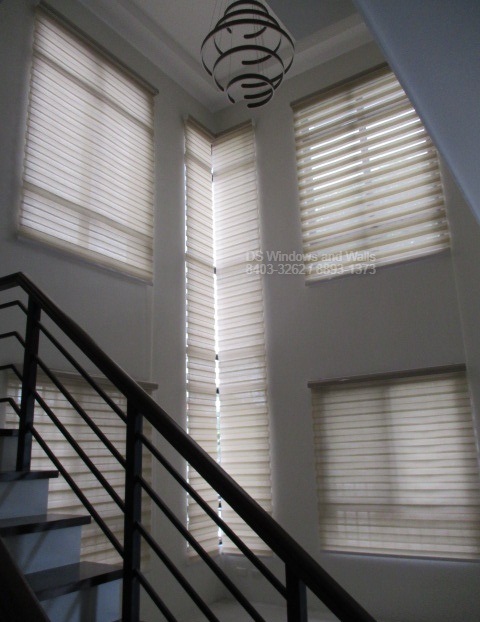 Most would think that it would be inconvenient and difficult to have light controllers installed for high windows or high ceiling rooms. Such would be very difficult to do as desired areas are elevated and may need professional help. But this was not much of a restraint for today's client. In this Mandaluyong project, we feature korean blinds aka combi blinds for high ceiling living rooms, which gave the entire area a neat and cool finish.
As one of the most common types of blinds, Korean blinds are composed of opaque and clear fabrics that can be alternated with one another to accommodate a client's preferred room lighting. If one prefers that the room be more private and prevent light from outside from coming in, the sheer fabrics are of great use. But if one aims to let some light and fresh air in, the thinner translucent fabrics are used.
This Mandaluyong project proves satisfying because not only did the combi blinds fulfill its basic purpose, it also shows how such blinds are adaptive to various types and sizes of windows or doors. It shows how practical the use of these blinds is, especially in rooms that are larger than the normal size. The impenetrable sheets of Korean blinds are a great choice for high ceiling areas as these can prevent the larger amount of sunlight that can pass through the room.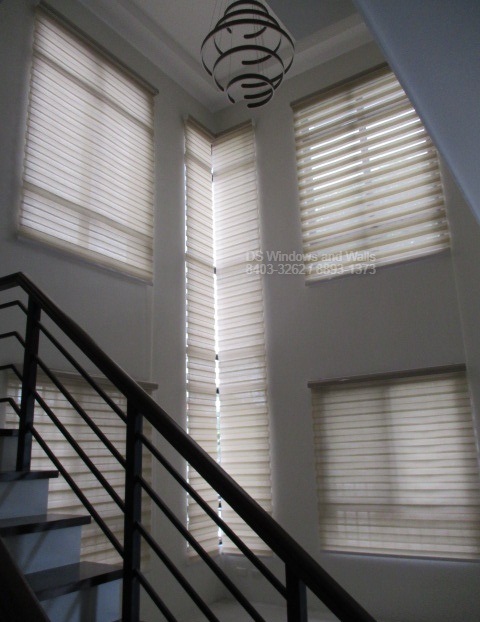 It is evident that the white Korean blinds complemented the minimal style of the staircase and added a simple sophisticated look matched with the paint as well. Also noteworthy is how the blinds made the room look cooler and less humid. This particular installation also shows that a good range or variety of services aligned to customer needs can be provided. May the interior be more elevated or wider than the usual, there is an item to answer to such necessity.
The maintenance of these Korean blinds for high ceiling rooms may be done with the use of long duster rods appropriate to the length or height of the staircase window. Such is recommended because we should think of safety first before anything else. With long duster rods, there is no need for a house member to climb up a ladder or a chair for elevation. Cleaning can be done with their feet on the ground and their safety assured. But because these combi do not consist of vertical slats or panels, maintenance and cleaning should not be too much of a problem.
For more information on our Korean blinds please call us at (02) 8403-3262, (02) 8893-1373, or 0916-311-3909. Email us at inquiry@dswindows.com. Visit at us at our mall stores.
Related posts