When it comes to window treatments, there's a lot of choice to choose from but the vertical blinds remain the most popular as simple, efficient and economical solutions for a variety of windows whether it's small or large. There are many different reasons why people choose to use vertical blinds. First is to reduce or block sunlight from entering through your window and heating up the room. The second motive is providing privacy inside your home from the prying eyes of your neighbors. And, lastly vertical blinds can be a beautiful decoration to your home that provides an illuminated area that can contribute interest to any room.
With the popularity and good qualities of vertical blinds it's natural that different type of materials are manufactured to give diversity to the customers to choose from and the most popular are the PVC and fabric vertical blinds. Both PVC and Fabric Vertical have the same mechanism that's easy to manipulate, but when it comes with advantages and disadvantages they have some difference in some aspects.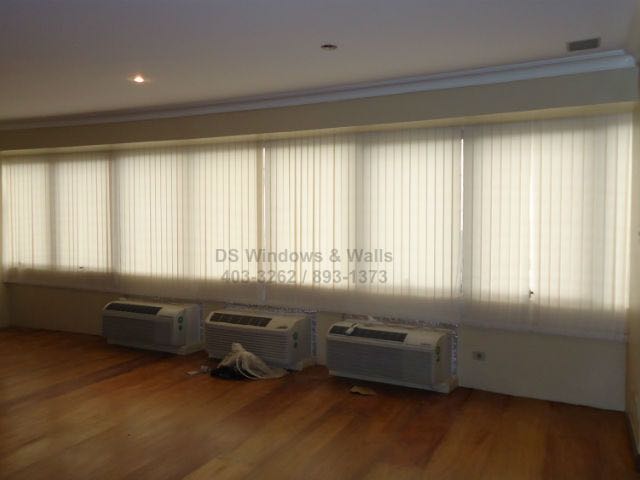 Fabric Vertical Blinds
Fabric Vertical Blinds cannot entirely prevent sunlight from entering your room through your window, but it limits the sun in a certain amount that provides you just enough light to brighten up your room.
In terms of temperature fabric vertical is more superior in keeping the heat check. Fabric vertical blinds are made of polyester which is sun resistant means it absorbs the heat but doesn't make the surrounding hot, unlike PVC that similarly take up the heat but warm remain that makes the room temperature rise as well.
When it comes to residential window fabric vertical blinds are way more suitable because fabric materials offer a softer look compared to PVC type. Fabric is more homey feeling and welcoming fits to a home atmosphere.
Weight factor is also significant and probably one of the biggest advantages of fabric vertical blinds compared to PVC. PVC Vertical is much heavier and stiffer that keeps resisting the wind that usually the cause of damage in carrier stems or the slate itself, unlike the fabric that follow the wind flow and way lighter that don't give too much stress on the carrier stems.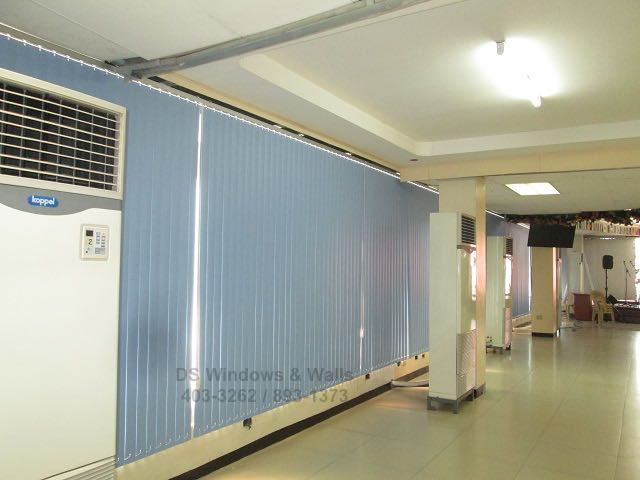 PVC Vertical Blinds
PVC Vertical Blinds can entirely block sunlight from entering your room through your window and provide one hundred percent privacy from the outside.
PVC Vertical Blinds are made from polyvinyl chloride that is now available in a large variety of colors, textures and pattern. They say before PVC Vertical is only for commercial places because it has simple appearance, but since it evolved overtime it now offer more unique design choices for the clients to choose from that can also suit any room motif even for residential area.
When it comes to maintenance PVC Vertical Blinds are easier to clean compared to fabric materials. Can be easily cleaned with damp sponge and its more defiance to dust while fabric vertical blinds are easy to get dirty and needed to be washed to clean.
PVC Vertical Blinds are more durable and can last longer giving you a better investment for your window treatment choice. Because it's made of PVC it doesn't get easily damaged and the color also doesn't fade even though it's exposed to the sun.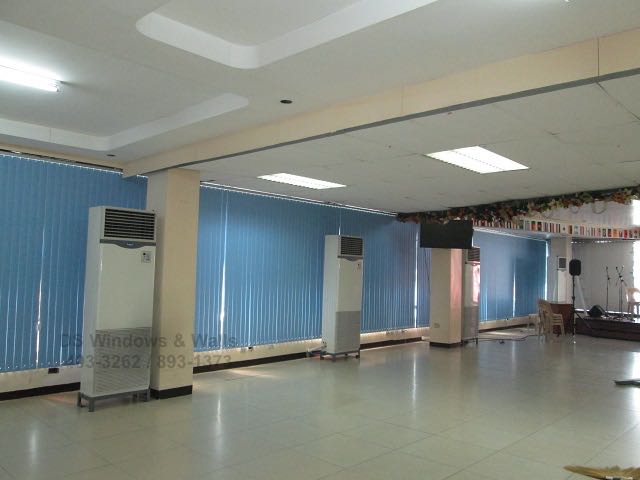 Vertical blinds is one of the best window blinds that offers a lot of benefits and one of the most economical window treatments available in the market today. Both fabric and PVC vertical blinds has their own good factors and disadvantage it all depends on what you choose which materials can accommodate your needs.
For more inquiries please call us at (02) 893-1373 / (02) 403-3262 / (02) 668-9668 / 0916-311-3909 or visit our showroom at 2nd level Pacific Mall Lucena City, 3rd level Robinsons Metro East, Pasig City and 4th level Waltermart, Makati City.
Related posts