When buying an accordion door as a room divider or even a bedroom or bathroom door, there are always a lot of things to consider.  Firstly, it's important that you understand what you need for your home and the characteristic of each type.  There are lots of different kinds of accordion available today that are made up of different types of materials i.e. metal, wood, PVC, and many more. All of them have their own pros and cons and different appearances.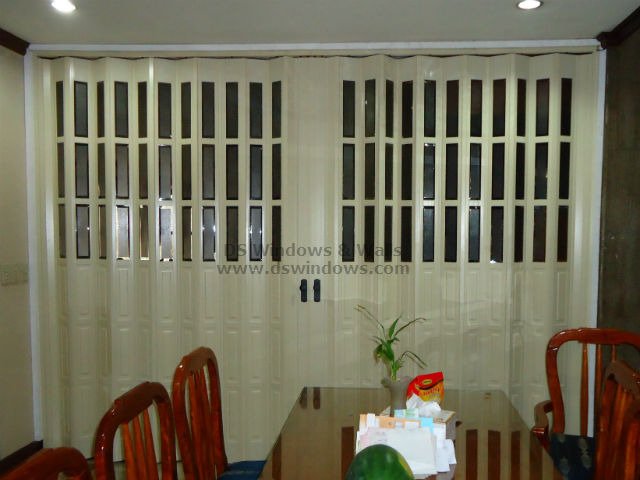 One of the most affordable and leading accordion door today is made up of PVC, but the PVC accordion door also has different varieties.  French and Deluxe are the most popular types in the PVC accordion door that most customers choose.  Since French and Deluxe accordion door are both made of PVC, they are almost the same in terms of durability.  Both are also easy to maintain and can last for a very long time.  The biggest difference between French and a deluxe accordion door is the appearance.
French Accordion Door is an attractive addition to any home and popular for its unique and stylish feature.  French accordion door is made up of glass panels all the way through its length or you can also divide it into two parts for e.g. the upper portion of the accordion is consist of glass while the lower part is pure solid with a design of embossed or louver panel.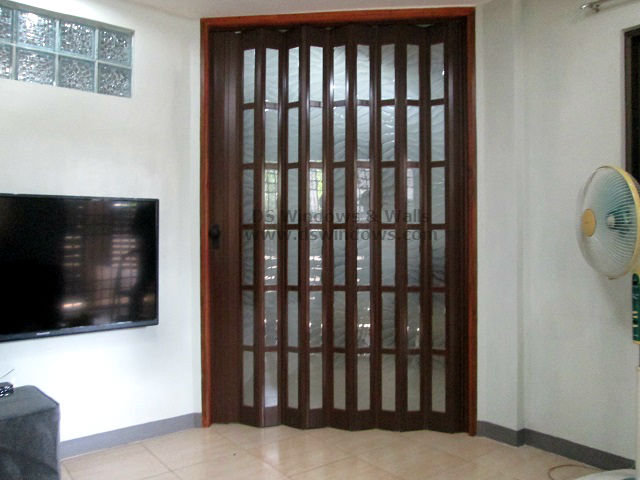 Here are some of the collection photos of our past clients in Metro Manila that we previously installed.  The first picture is a sample of French accordion door that use the upper part as the glass portion with Beveled Clear glass while the bottom section is made of embossed design. In the second photo is a full glass French accordion door that uses wengue color for the frame and use ocean glass. You have the freedom to choose which glass and frame you want to combine and whether it's full glass style or divided half by the half portion giving you more different design option to choose from for your place.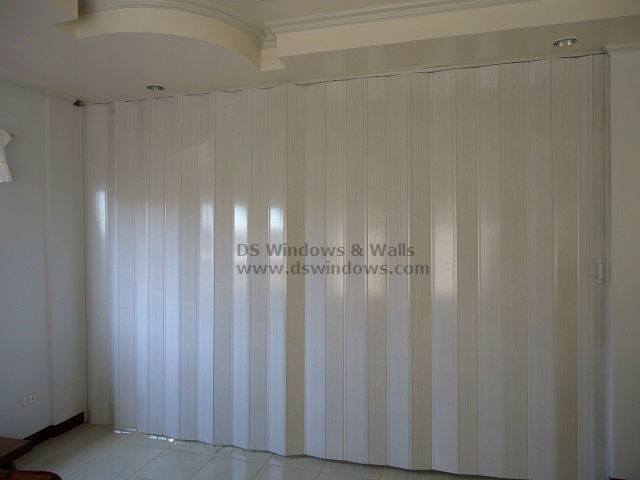 The third and last photos are both deluxe accordion doors.  Deluxe accordion door might not have special design like a unique glass design, but this simplicity and practicality is the main reason why it became a popular choice for both homeowners and commercial places.  The plain appearance can easily complement other furniture and also has its own special charm that helps to boost the appearance of any room. Deluxe accordion door can also imitate the appearance of a real wood folding door like the last picture using a light oak color with wood grain pattern.  Deluxe accordion door can also offer more privacy perfect for the bedroom and bathroom door and a great choice for office divider, it's very advisable in any place that you value privacy.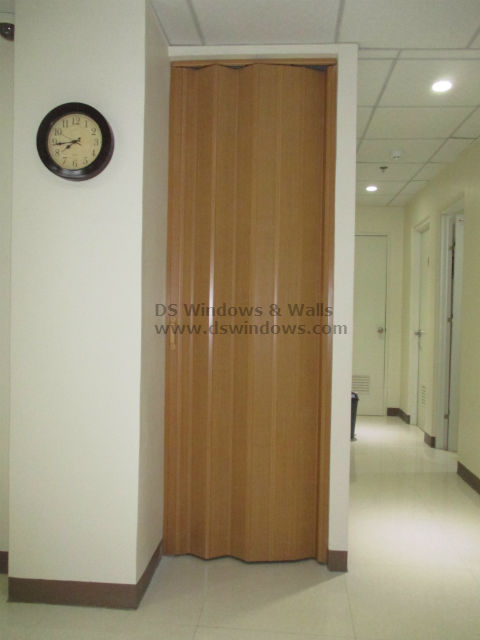 French and Deluxe Accordion Door has distinct different feature but surely they are both beautiful, stylish and fashionable. Whether you choose a simple yet chic deluxe accordion door or a unique and elegant French accordion door at the end of the day, it's a matter of your choice, which one is truly getting your attention and which one will suit to your fashion taste and room motif.
DS Windows & Walls is one of the leading company in providing blinds, carpet, accordion door and wallpaper. For more inquiries please call us at (02) 893-1373 / (02) 403-3262 / 0916-311-3909 or visit our showroom at 2nd level Pacific Mall Lucena City, 3rd level Robinsons Metro East, Pasig City and 4th level Waltermart, Makati City.
Related posts