This year 2015 is the year of Wood Sheep in Chinese zodiac and good Feng Shui interior decorating ideas can help bring wealth and good energy for your family.  In order to attract good luck this year use lucky colors for home interior base on good Feng Shui color that's suitable for the Wood Sheep.  As the experts say this will increase your good fortune for the whole year.
According to ancient Chinese Feng Shui masters, color is a kind of energy and that lucky colors can help you bring prosperity and good health to people depending on what zodiac the year is (e.g. 2015 is the year of Wood Sheep).  And base on the Feng Shui experts 2015 is the Year of the Wood element, so your interior decorating ideas need to be in harmony with the energy of the year which is natural wood colors, from light brown to dark with any brown shades color.  You can also combine it with all other neutral colors to create comforting and welcoming home interiors for bedrooms, living room and kitchen.
Using more good Feng Shui colors for his interior decorating to achieve the most comfortable and absolutely powerful attraction of positive changes, our client in Binondo Manila started changing her window treatments from curtain to dark brown duo shade blinds.  Not only that it matches this year's lucky color, but it also enhance the appearance of her home. For the wall she keeps the color white paint to create a striking contrast between her dark brown duo shades. Her couch and floor have different color however both of them belong to shade of brown that harmonize with the white wall and dark duo shade blinds and create an effect of modernistic and chic look.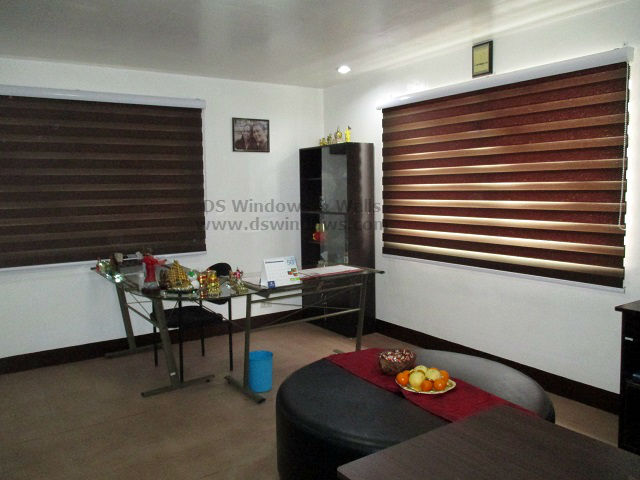 Duo Shades Blinds is known for its classy look and great functionality. With lots of variety of color and pattern available and different type anyone can surely find the best color and design that will perfectly fit to their room motif.  It is also very easy to match with different room motif and can blend to any furniture with the right color. Residential windows using Duo Shades also has its advantage because it's made up of fabric material it offers more softer atmosphere for your home compared to PVC or hard material blinds.
For more inquiry please email us at inquiry@dswindows.com or call us at (02) 403-3262, (02) 668-9668, (02)893-1373 and 0916-311-3909. You can also visit our shop located at 4th level Waltermart Makati, 3rd level Robinson Metro East Pasig City and 2nd level Pacific Mall Lucena City.
Related posts