You're single and living in your own apartment might be the happiest time for someone who's starting to be an independent person. Having your own pad and living alone with no parents to lecture you and setting your own rules is maybe the coolest place. But living the single life doesn't mean your apartment motif will be left behind unnoticed, especially for a bachelor who's not particularly interested in designing.
One of the great and simple ways to keep your bachelor or bachelorette space friendly for both female and male friends are to combine rich elements alongside softer ones. Whether you wanted to create a mature singles apartment look or simply want to show off a professional lifestyle, organizing starts with choosing the right color palette, suitable furniture and perfect home design that will fit to your personality.
For this featured bachelor pad they prefer to use neutral tone colors.  The combination of modern and dark furniture with clean line details can help bring masculine look. Your apartment doesn't have to be boring or filled with decoration to make it stylish and updated.  You can make it soft while still maintaining manliness by adding a little texture like suede and leather, like for your couch, that will add interest to your design.
For bachelorette most of them would find this simple and I believe they have more choices when it comes to color and have more creativity to bring out the best look for their apartment. The only problem is that they have too much idea that it clash and sometimes turns to too girly look which is not really cool for an independent woman. A single woman who prefers classic and elegant designs would prefer soft color, striking designs possibly inspired by flowers and bright accents that brings out the feminine look but not too girlish will do the trick.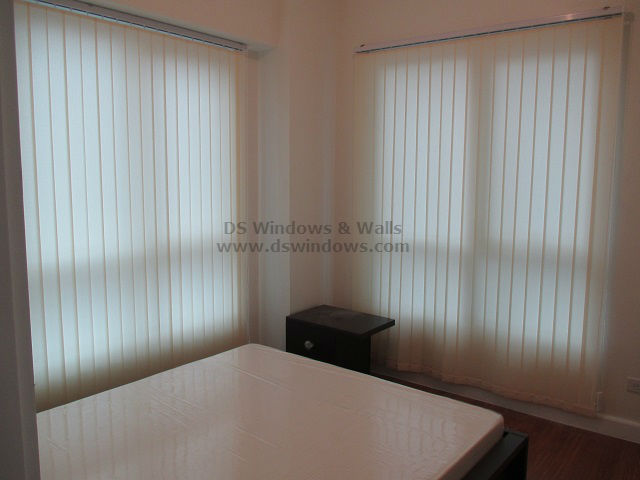 For finishing touch a single pad would need a window treatment that is luxurious and user-friendly. Fabric Vertical Blinds is one of the best choices to make a room bigger and to have a modern look with good insulation and varying degrees of light and privacy. Like our client in Makati City who chooses to use fabric vertical blinds in his windows. It has clean, sleek and stylish look that can match with a bachelor or bachelorette theme design.
For more inquiry please email us at inquiry@dswindows.com or call us at (02) 403-3262, (02) 668-9668, (02)893-1373 and 0916-311-3909. You can also visit our shop located at 4th level Waltermart Makati, 3rd level Robinson Metro East Pasig City and 2nd level Pacific Mall Lucena City.
Related posts