When it comes to roller blinds fabrics a lot of parameters needs to be considered. Customers usually over emphasize the color of the fabric, which is very important as a matter of fact, since the color should match the surroundings. However there are other functional parameters that needs attention. Some of the attributes of the fabric that are mostly overlooked are thickness, composition, texture, and for this article – the openness factor.
For this article we focus on the roller blinds openness factor and the reason why it is important when choosing the fabric for your home interior window shades. The common openness factors are 1%, 3%, and 5%. The more percentage openness the roller blinds fabric is, the more it is that you see outside and the less it insulates you from the heat of the sunlight. The less percentage openness, the less you see the scenery outside your window but the more it insulates you from the outside heat.
All kinds of openness factor, 1%, 3% and 5% has its own pros and cons and largely depends on your situation. For example, if you have a beautiful scenery outside or you are in a skyscraper and you want to see the outside skyline once in a while (see third photo) then you would want to opt for the greater openness e.g. 5%.
However, in the first and second photo you can see that our customer opted for a 1% openness factor that really suited his needs.  This is especially true if your apartment or condo is facing an afternoon sun then a 1% openness factor will help a lot in reducing the glare and the heat from the outside.  Of course you can always settle for blackout fabrics but then this will totally eliminate all natural light that you sometimes welcome.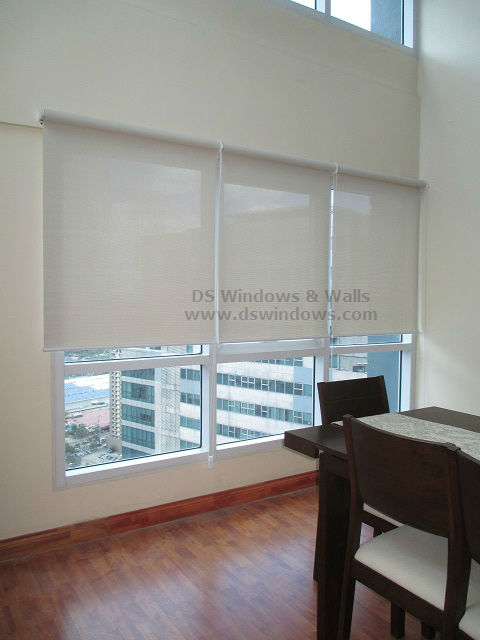 The third and last photo is a client of ours that wanted to see the sky and city outside.  This also creates an illusion of a wider and bigger room. The thinness the fabric gets the more light can penetrate your room, but since for our client who's not really facing the morning sun and don't have any problem with too much sunlight roller blinds with 5% openness factor is the best choice for the windows.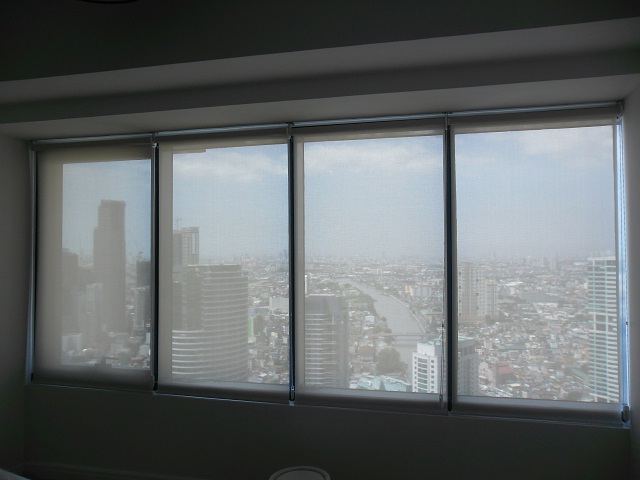 Just always remember when choosing your window shades, consider the things you want to achieve for your windows and what blinds can accommodate your requirements. Every blinds has their own specialties like roller blinds have different thickness that you can differentiate with its openness factor. If you value your outside scenery and your sunlight concern roller blinds openness factor difference can give you a choice in what's suitable for your windows.
DS Windows & Walls Interior Supply offer Roller Blinds with different color available including the different type of openness factor. You can visit our shop located at 4th level Waltermart Makati, 3rd level Robinson Metro East Pasig City and 2nd level Pacific Mall Lucena City to see all the different fabric available. For any inquiry please email us at inquiry@dswindows.com or call us at (02) 403-3262, (02) 668-9668, (02)893-1373 and 0916-311-3909.
Related posts