Some of the wealthy clients of ours have interior designers that they work with in order to achieve what they think is the best design for their homes.  This is good and well especially if you have the budget.  But there are also those that can afford an interior designer but still opted to do-it-yourself approach when it comes to decorating their home or rooms.  If you have the time and the means, designing your home can actually be fun and engaging.  This is especially true if you know the right suppliers like DS Windows & Walls that can make DIY a lot easier.
When you call for a free estimate at DS Windows & Walls our agents brings you sample materials to your door steps and also gives you some advise since our agents also comes with several years of experience of product knowledge.  With the some research and help from your supplier you can actually achieve a decent or even fantastic window decor and home design.
One example is our client in Pasay City who opted not to hire a professional designer to decorate their home.  In fact, they stick with the (DIY) do-it-yourself method with a little help from our sales representatives.  With years of experience, our company representatives is already experts on the pros and cons of our products, and with that knowledge we can help our clients by giving our opinion on the best suitable blinds for their home based on their budget and preferences.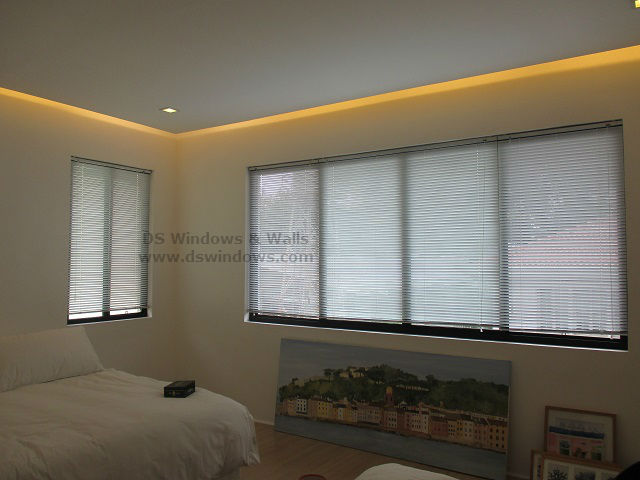 For this particular client, they opted for mini blinds since they wanted to implement an inside mounting.  However, their window frame only permits a little more of an inch.  Since our field agent knows the minimum depth required for each type of blinds they agreed that mini blinds is best suitable for this configuration.  Mini blinds requires the most minimal depth i.e. since the thickness of its railing is only one inch unlike other blinds that has a railing thickness of at least 2.5 inches.  For this reason along with other compelling features such as simplicity, color range availability, price, and function, our customer finally decided to just choose mini blinds.
Mini blinds is traditional and simple but it can still look amazing, stylish and can even keep up with the look of today's fashion trend. With a smart choice of sleek silver color that our client chooses it help to bring a modern and high trend appearance in their bedroom. It's also long-lasting and very functional that can offer privacy and has a great light control.  Knowing the that mini blinds is durable because it's made of aluminum material that doesn't shatter or break like other PVC mini blinds and it's also washable and doesn't get rusty so cleaning using damp cloth is easier our client end up satisfied and pleased with the appearance and everything that mini blinds can offer.
DS Windows & Walls is one of the leading company in providing blinds, carpet, accordion door and wallpaper. For more inquiries please call us at (02) 893-1373 / (02) 403-3262 / 0916-311-3909 or visit our showroom at 2nd level Pacific Mall Lucena City, 3rd level Robinsons Metro East, Pasig City and 4th level Waltermart, Makati City.
Related posts