Roll up blinds also known as roller shades or roller blinds is typically installed in restaurants or offices. It is not uncommon to think that at home we only used curtains or other types of blinds such as wood and venetian blinds. However, as you can see in this client of ours that still preferred roll up blinds to other types of window treatment that roll up blinds can still be very attractive also for home.  Unlike other window treatment products, roll up blinds is very simple looking and yet functional. There is a very wide range of fabrics that you can choose from so that more styles and combination can be achieved.  It really depends on your creativeness and preferences.
To give a different effect, our client from Del Monte Quezon City installed pin lights to give a romantic effect to his dining room.  There are many types of lighting available such as halogen, LED, fluorescent in the market that you can easily find in popular hardware shops.  The combination of lighting, furniture, blinds, and decor gives the room the effect that you want.
One more thing to notice in this dining room is that the color of the roll up blinds that was used was white/beige and really complemented the dark colored accent of its chairs, baseboard, and paintings.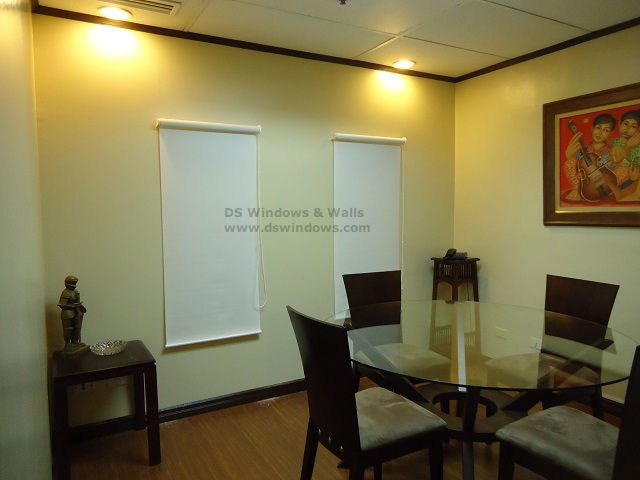 You can visit 4th level Waltermart Makati, 3rd level Robinson Metro East, Pasig City and 2nd level Pacific Mall, Lucena City or you may browse our web store at www.angryblinds.com.ph. For questions or inquiries, you may email us at inquiry@dswindows.com or call us at (02) 403-3262, (02) 668-9668, (02) 893-1373 and 0916-311-3909.
Related posts