In home interior, lighting is very important. It creates subtle mood at the same time give a feeling of cosy and luxury into your space. Lighting can also be a piece of accent material for your home. It can also add relaxing feeling to every individual in home. There are many types of lighting for home. Some comes in a simple and artistic piece, but others come in a dazzling and splashing effect where everyone can be amaze.
Our client from Batangas, Philippines, who purchased white Roller Blinds for their white penthouse, has an amazing accent pieces. Roller blinds just coordinate with their white home interior. The most eye-catching pieces are the red chair and the pretty chandeliers on their ceiling, creating a luxurious, elegant and modish look into their home.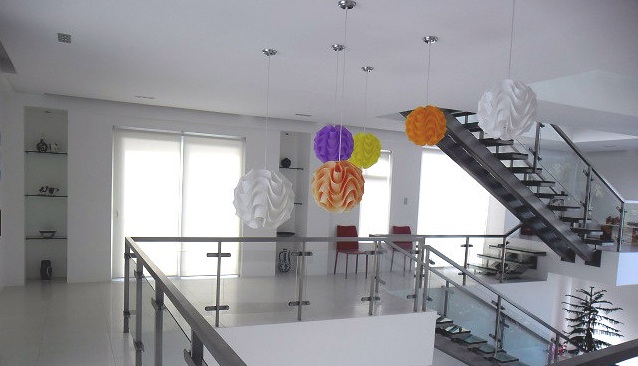 As part of interior design scheme, accent lighting use to draw the eye to a  painting, plant, window treatment or staircase to give those areas a dramatic and striking look. A good accent material is an affordable way to add cheerfulness and to brighten up areas in your home like kitchen, patio, family room and most especially living area. If you are in need of window blind like roller blinds, combination blinds, etc., to complement with your home accents, fell free to visit DS Windows and Walls at 2nd level Pacific Mall, Lucena City, 3rd level Robinsons Metro East, Pasig City and 4th level Waltermart, Makati City. You may also reach us at 0916-3113909 / (02) 893-1373 / (02) 403-3262 / (02) 668-9668 or you may email us at inquiry@dswindows.com.
Related posts