Wooden blinds PVC type also known as faux wood blinds, is a wooden-like blinds, made up of a kind of plastic called Polyvinyl Chloride (PVC). Like wooden blinds, faux wood blinds provide a complete privacy and control the amount and direction of the sunlight. But unlike wooden blinds, PVC type wooden blinds are water resistant that made it more suitable for bathrooms. As we all know, bathrooms are considered as one of the wet areas inside our house, that when we use wooden blinds as a window treatment there, it will eventually warp, bend and decompose.
Bathrooms, nowadays, are not only a room for personal hygiene but it is now considered as a retreat from the stresses of the day. Its interior plays a major role in making the bathroom look more relaxing and comfortable. Window treatment such as wooden blinds can give a natural and relaxing ambiance but since it can't use in bathrooms, faux wood blinds are the best alternative.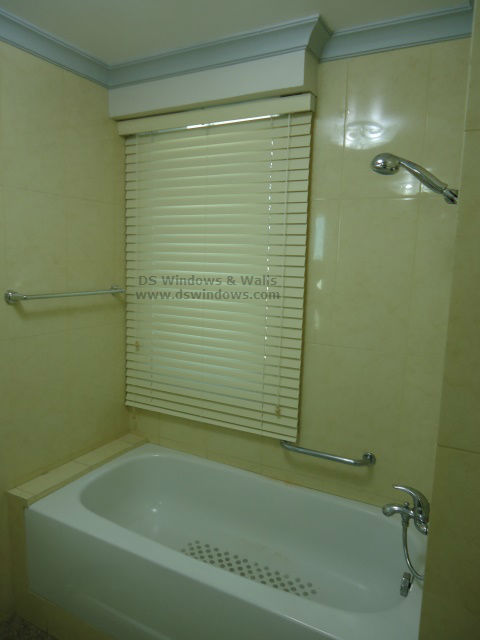 Our client from Pasay City has been through a lot of pressure everyday, that's why wants to make his bathroom a silent sanctuary to release his stress. And to add a relaxing and comfortable aura, he prefers to use faux wood blinds.
For different colors and design of faux wood blinds, you can visit 4th level Waltermart Makati, 3rd level Robinson Metro East, Pasig City and 2nd level Pacific Mall, Lucena City or you may browse our web store at www.angryblinds.com.ph. For questions or inquiries, you may email us at inquiry@dswindows.com or call us at (02) 403-3262, (02) 668-9668, (02) 893-1373 and 0916-311-3909.
Related posts