There are lots of business types ranging from general trading types to different offered services so office interiors should be aligned to the nature of the business.  There are offices that feels very practical and straight-forward such as those office back-ends like finance and accounting, logistics, HR, etc. that are usually analytical in nature.  However, there are also offices that demands creativity to their talents.  These offices usually are into advertisements, publishing, writing, arts, websites, etc.
For offices like this it is important that their working space promotes creativity.  You wouldn't want to put plain and boring interior for creative minds as this will not be engaging to them that translates to poor productivity. It's also important to give a good impression to your potential client starting from your office design.  Since your office is the face of your company and your creative ideas are your market, it's only natural to show it through the place where you make your creation.  Like our client in East Avenue, Quezon City who makes use of every detail of their office to impress and bring creative design that can illustrate and promote their artistic minds.
Floor and wall are one of the most noticeable spaces and occupies a large portion of the room that's why it's very important to make use of this area to create unique and attractive feature yet appropriate for an office design. Our client chooses to install vinyl wallpaper with brick design for the entire office wall while for the floor covering they use laminated wood. Wallpaper is the most artistic wall covering available today that can also appear realistic as well. Wallpaper is the only wall covering that can provide a unique pattern with embossed design and combination of different color in just one roll of wallpaper make it more superior compared to the other.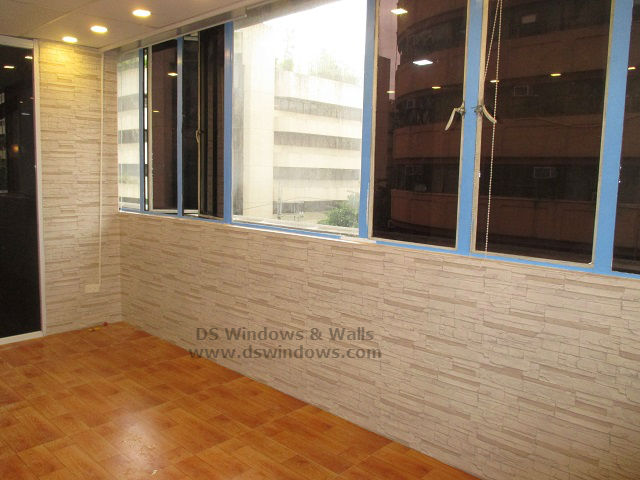 Our client uses brick wallpaper as wall cover and as you can see in the photos that it mostly looks like real brick stone and not just ordinary vinyl wallpaper. The embossed pattern and the color combination that vinyl wallpaper can offer creates a realistic illusion that many people love about wallpaper. Other than its attractive and convincing appearance our client also chooses vinyl wallpaper with brick design to complement the laminated wood flooring too. The brown laminated floor with the light beige wallpaper produce a bright setting and relaxing atmosphere for their office interior design. It also produces a creative office design plus it will surely get the peoples' attention and will be surprised if they realize that you wall isn't truly made of brick stone. That will surely give a good impression for your company and show your creative ideas.
DS Windows & Walls is one of the leading company in providing blinds, carpet, accordion door and wallpaper. When it comes to providing the best interior supply for your place, we can guarantee to offer our client the best quality of our product and services to satisfy the needs and wants of all our customers. We can offer different type of blinds for window treatment, wallpaper for the wall covering and carpet for flooring. For more inquiries please call us at (02) 893-1373 / (02) 403-3262 / 0916-311-3909 or visit our showroom at 2nd level Pacific Mall Lucena City, 3rd level Robinsons Metro East, Pasig City and 4th level Waltermart, Makati City.
Related posts