Window is one of the basic parts of any house. It is one of those who provide fresher air to circulate in the room. Windows can also provide us natural light for brighter surrounding that help us save energy and a small opening for us to see the outdoor from inside our house. Nowadays, windows can also be a fashion piece into a room, depending on they style and shape you want for your window.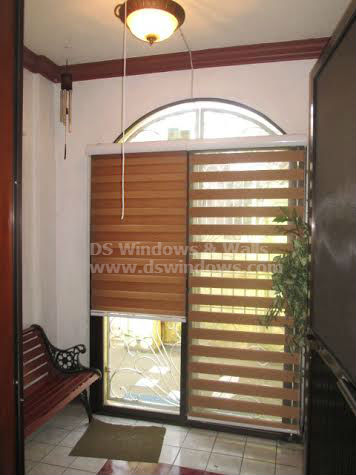 Bay windows, fixed glass, jalousie windows, arch windows, sliding windows, etc., are only some of those common windows you'll see in houses. Windows with different shapes and style are getting popular today and because of that, also sliding glass indoors are also changing in shape. Like our clients in Sariaya Quezon, Philippines who have a sliding glass door with half round shape known as arch shape.  Arch window or glass door is one of the most popular choice if you want to attain an elegant look into your house, but since the top window is a curve, most people find it hard to find what kind of cover will suite to this kind of windows.
Combi blinds is known to fit in all kinds of window's shape and style that is why our client opted for Combi Blinds for their living room with arch glass door. Combi blinds may not fit perfectly into the whole shape of the glass door, but it is up to you to create a new style for your home interior. Wood stain color of Combi Blinds fit perfectly with their overall interior motif.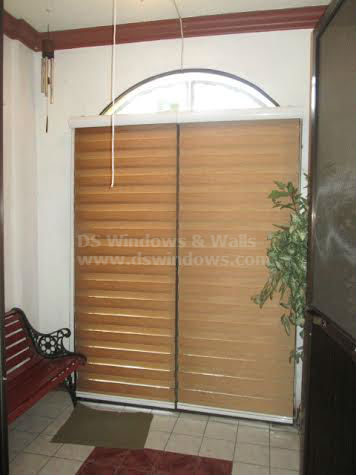 Combi Blinds have a great mechanism and unique style that everyone loves. DS Windows & Walls offers Combi Blinds with lots of color to choose from. For any inquiries, please call us at (02) 893-1373/ (02) 403-3262 / 0916-311-3909 or email us at inquiry@dswindows.com. You can personally see our sample products and swatches at 4th Level Waltermart, Makati City, 3rd Level Robinsons Metro East, Pasig City and 2nd Level Pacific Mall, Lucena City.
Related posts